Apex Community App Feature Spotlight: Shelter Directories
Date: February 18, 2021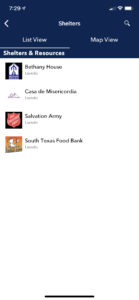 The extreme weather that has been sweeping across the nation this winter has led to fear, struggle, and tragedy for many as property and lives have been lost. Many public agencies have looked for ways to better communicate with and support individuals going through difficult times, whether personally or during emergency situations.
One way public safety agencies can help get the word out about resources in their community is through the Apex Mobile Community App's Shelter Directory feature. This tool allows agencies to list information about shelter resources in their local areas, including animal shelters, emergency shelters, and homeless shelters. Individuals in need of help or who want to help those struggling can quickly and easily find contact and location information for active resources with just a few clicks. Food bank information can also be listed in the app, which is another vital resource especially during times of emergency when people may be experiencing food and shelter insecurity.
Offering resources for our communities during tough times is vital, but making sure the people who need help know where to find it is critical as well. Laredo Police Department has been using the Shelter Directories feature was able to benefit from it during the unexpected winter storms that have hit Texas this February. To learn more about the Shelter Directories feature or to utilize it in your own Agency's app, contact Apex Mobile's customer support team at
support@apexmobie.net
or call our office line: 949-305-7008.