Apex Launches On-the-Go, Digital RIPA Form and CA DOJ Reporting Tool
Date: August 29, 2021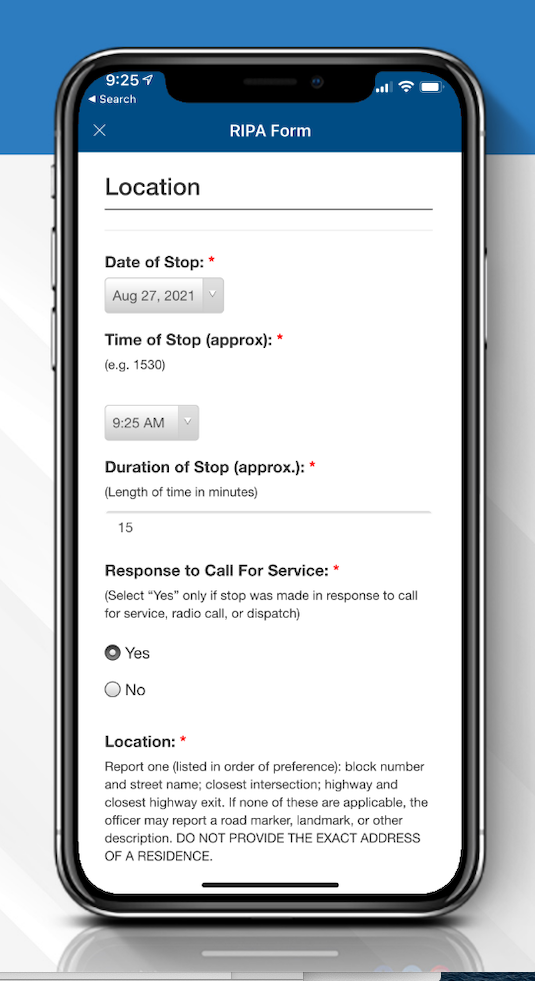 As a California-based company with over 50 mobile apps deployed for public safety agencies across the state, we know that the state wide RIPA data collection and submission deadline for all agencies is rapidly approaching. RIPA, the Racial and Identity Profiling Act passed under bill AB 953 in 2015, is designed to eliminate racial and identity profiling through collaboration, transparency, and accountability.
Thanks to input from Huntington Beach and Corona Police Departments we are excited to now offer RIPA support features integrated into our internal communication tool, Apex IRIS.
Apex has enabled access to forms required by RIPA directly within the IRIS agency mobile applications. These forms can be filled out quickly and instantly submitted to the California Department of Justice. RIPA tool features include:
Desktop and mobile app form submission
Administrative / Supervisory review approval option
Automated submission to California DOJ
Immediate access to your agency's data
We're excited to continue creating new opportunities for our clients to get the most out of their apps. For questions about this new tool or other features of our IRIS agency apps, don't hesitate to reach out to our customer support team at support@apexmobile.net or call our office line: 949-305-7008.