Apex Mobile Announces IRIS 2.0
Date: May 13, 2021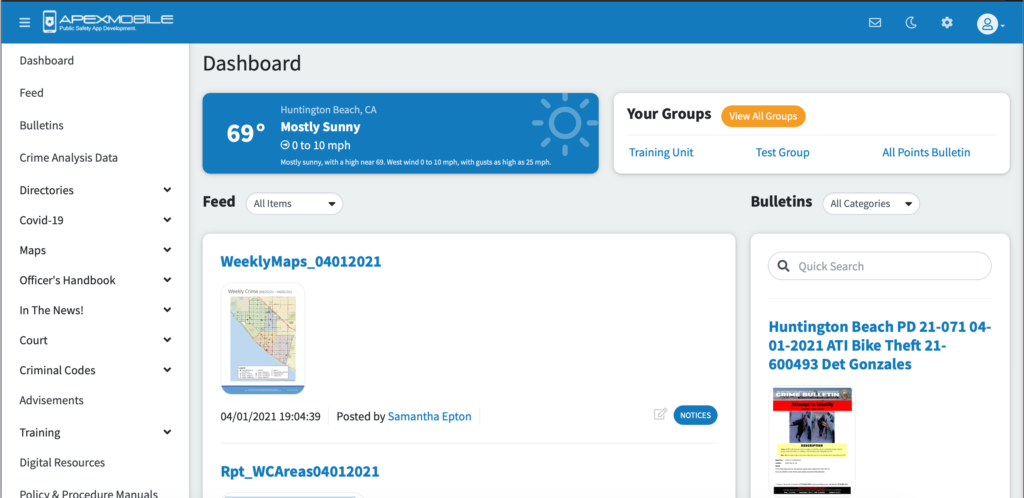 Apex Mobile is excited to announce the launch of IRIS 2.0. This is the second phase of our groundbreaking internal communication tool, designed to streamline information sharing and keep public safety agencies on the same page.
IRIS 2.0 Features Enhanced Security + Web-Based Support
Security
This update focuses on enchanted security including more robust authentication protocols. Security measures have been rebuilt from the ground up to ensure we can meet the security needs of today and tomorrow. Upgrades include:
2-factor authentication
Enhanced password rules
3rd Party Login & SSO Capabilities
100% Hosted on AWS GovCloud
Robust logging
Web-Based Support
While we remain a mobile-first solution, we're very excited to now offer full support for our technology on desktops, laptop and tablet computers.  All of the features and content available in the Apex IRIS apps can be accessed from any internet connected device via your web browser.  This important feature makes Apex IRIS an agency-wide tool that is equally and conveniently accessible for every employee. Command and civilian staff are able to utilize larger desktop screens to seamlessly integrate IRIS use into their daily workflow. Increased accessibility also benefits those working in secure environments with restricted access to mobile devices, keeping them in the loop using any internet-connected device.
Launch
IRIS 2.0 will be available to new customers launching July 1 and will be rolled out to existing agencies throughout the rest of the year.  This update will be available at no-cost to existing customers.  New pricing will be effective June 1st, so if you have an existing Apex IRIS quote or want to see what the fuss is about, reach out to us right away to secure your pricing before it is increased.