Apex Mobile's "2020 Tools" Provide Mobile Technology Solutions to Today's Unprecedented Public Safety Challenges
Date: July 30, 2020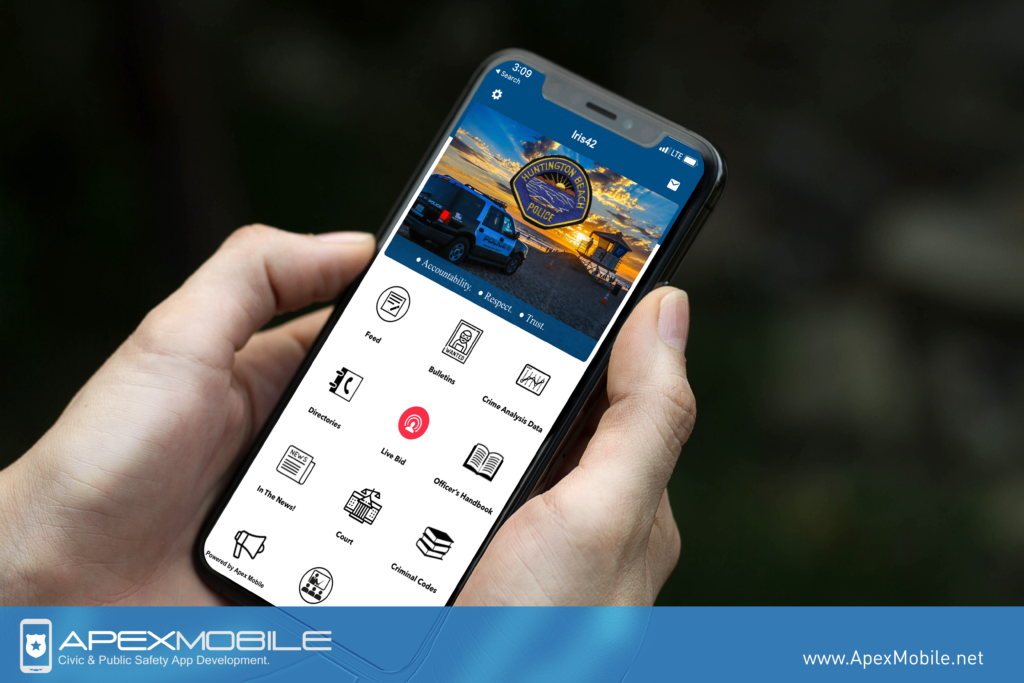 Public safety agencies nationwide are in the midst of a firestorm of new challenges they are trying to accommodate and address. Apex Mobile, a leader in public safety mobile app technology, has developed "2020 Tools," a suite of cutting-edge features designed to help agencies navigate modern demands such as social distancing, public safety transparency, improved community relations, and more. 
The rise in protests, riots, crime, racial tension, community distrust in public safety agencies, and the COVID-19 pandemic have all ushered in a "new normal" that requires agencies to adapt quickly and efficiently in order to thrive. The need for solutions is great and immediate, and Apex Mobile has answered the call to give public safety agencies effective, customizable tools to quickly and affordably address 2020's unique challenges. This makes adapting agency's community policing processes and internal organization to the "new normal" as streamlined as possible–now and for years to come.
Apex Mobile offers both a community engagement app as well as an internal communication platform loaded with features designed to help improve community engagement and community relation efforts. Apex Mobile's 2020 Tools extend across both platforms and integrate easily into agency's existing protocols and procedures, updating and improving them with modern policing technology. 
Digital Roll Call – Modernizing Essential Communication
With Apex Mobile's internal application (IRIS), public safety agencies can streamline their internal communication, public safety productivity, and help maintain officer safety with tools such as "Digital Roll Call." Recently announced in a July 17th press release, Digital Roll call is a suite of features that can be used to virtually conduct a roll call that is accessible anytime and from anywhere. Digitizing roll call allows agencies to turn an activity that is rife with challenges (from trying to maintain social distancing to having to meet in a centralized location during active protests), into an opportunity to improve safety, communication, reduce waste, and more.  
Bulletins – Searchable BOLOs Put Vital Information at Officer's Fingertips
Apex Mobile's IRIS "Bulletins" feature allows an agency to digitally upload or create BOLOs or "Be On the Lookout" documents. Each PDF uploaded into the Apex IRIS mobile application can be tagged into categories like robbery, burglary, vehicle theft, etc., making them much easier to find than sifting through a stack on a desk. Impressively, the text in the PDFs is automatically indexed, making them fully searchable. For example, if a BOLO included the text "red bike" and an officer searched for all BOLO's that included "red bike," then that BOLO would appear as part of the search–even if it was an older document, that if not digital, would likely have been long discarded.
Community Engagement Features The Public Wants to See
Police transparency and accessibility have become trending topics nationwide as agencies seek to communicate how they will serve and protect the public moving forward. Apex Mobile's Community Engagement platform provides a broad range of tools that are designed to give municipalities a higher level of transparency with the public. These features even include some two-way communication tools to directly promote positive community engagement and interaction. Agencies can use technology to reach the public where they spend their time–on their mobile devices–with tools like:
Community Groups – Define groups within a local area to support targeted community policing efforts, allowing officers to directly communicate with the individuals they work with.

News & Document Feeds – Publishes relevant news and statistics that speak to the community being served, increasing transparency and building trust.

Family ID – Designed to allow families to share vital information with officers in the critical, time-sensitive moments after a person has gone missing.

Crime Mapping – Provides the public vital information about crime happening in their immediate area, helping them protect themselves and their property.

Push Notifications – Send messages that come directly from the source, delivered to the community with no social media clutter or media spin.
Apex Mobile was founded to enhance communication between law enforcement agencies and the public they serve. Mobile apps can be extremely valuable tools for community policing, and the solutions they provide are especially relevant and useful in today's changing times.